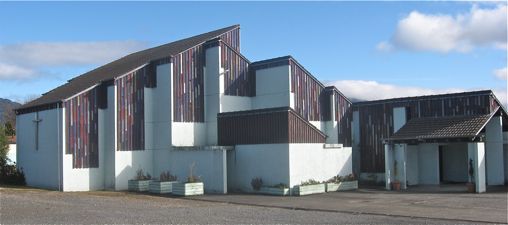 Turangi, 1965
While not as well known as the other churches, and perhaps not as successful, St. Joseph the Worker is still a bold and original architectural statement. The walls are stepped from a narrow front to a wide and low back and the changes in materials and height provide texture and interest. Thin slats of coloured acrylic on each side and a strip between the concrete walls and the roof provide dramatic lighting inside along the sides and above the altar.
The roof angles are familiar from many of Scott's buildings and the church shares both details and materials with other Scott designs. This church is more complex and more interesting than it first appears and warrants further study.
St. Joseph the Worker is currently rather shabby and the exterior concrete walls are painted pastel green, surely not the original colour. The interior is also scruffy and in need of maintenance. The church is very stark from the street and would benefit from some landscaping and judicious plantings (along with a change of colour). These things detract from what is otherwise a complex and dramatic building.
Craig Martin
April 2003