Visitor Centre: Aniwaniwa
Urewera National Park, 1974
Tucked away on the edge of Lake Waikaremoana in the Urewera National Park, the Aniwaniwa Visitor Centre (formally the Urewera National Park Headquarters) is a series of pavilions built on a sloping site in the bush. The centre is both a tree hut and another church.

Rather than taking visitors directly to the building, the sheltered entranceway at the road connects to the building entrance across an elevated concrete walkway through the trees.

The visitor centre provides shelter from the weather. While the interior is cluttered with displays and artefacts, windows of all shapes - square, rectangular, arched and circular - look out onto the bush.

Architecture is an experience, not a thing. Ultimately it should connect us with our spirit. The Aniwaniwa Visitor Centre connects us with the spirit of the Urewera - the bush, the water, the sounds and smells, the light – as a church might connect a believer to God.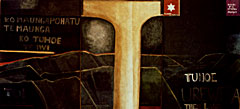 The Park Board commissioned Colin McCahon to paint a mural for the National Park Headquarters in 1975. There was controversy about the wording used on the painting, McCahon using Elsdon Best as his source and coming unstuck with Tuhoe sensibilities.

The mural was purchased in 1975 for $4,000 and was valued twenty years later at $1,200,000. It was stolen in 1997 only to be returned rather mysteriously fifteen months later after negotiations between Maori activists and a well-known art collector.

The Aniwaniwa Visitor Centre is also a work of art. It should be valued as highly as the painting it contains and conserved accordingly.
Craig Martin, February 2004 (Photos January '04)
Updates:
September 2016: Last-ditch effort to save historic Lake Waikaremoana building
August 2016: Change.org Anwaniwa Visitor Centre Petition
August 2016: Visitor centre demolition a fait accompli
August 2016: Institute of Architects urges DoC to save Aniwaniwa Centre
May 2011: Petition launched to save Aniwaniwa Visitor Centre from demolition (Download PDF)
Stuff: Winning design turns out rotten 21/02/09
Aniwaniwa Visitor Centre partial closure
Safety concerns at visitor centre